You are here
Determine Program Eligibility

School Meal Eligibility is determined at the district level by households completing a free or reduced-price application. Households can also be automatically eligible for free school meals through direct certification.
Qualifying students as eligible for free or reduced-price school meals helps to increase access to healthy meals, which supports their health and academic performance.
Jump To:
---
School Meal Eligibility Overview
Sponsors must provide, collect, and determine student eligibility for meal benefits using household income applications or via direct certification. Sponsors are reimbursed for meals served to students based on the USDA established reimbursement rates for each eligibility category: free, reduced-price or paid meals. 
For the National School Lunch Program and School Breakfast Program, all disclosure requirements for release of student eligibility for non-meal program needs will apply. Public school districts operating National School Lunch Program must report free and reduced-price eligibility totals for the annual At-Risk/Free Lunch October Count.
Best practices to encourage families to provide household income information:
Provide consistent and clear communication on how families can apply
Promote online application as a component in online school registration
Include application and return instructions in Friday folders
Mail paper applications with pre-paid return envelopes or designate a drop-off point
Hold office hours for application assistance
Directly certify students and extend eligibility to household members to the greatest extent possible
Use marketing materials to incentivize applying
Student Eligibility Carryover
For up to 30 operating days into the new school year (or until a new eligibility determination is made, whichever comes first) an individual student's free or reduced-price eligibility status from the previous year will remain effective. When the carryover period ends, unless the household is notified that their children are directly certified or the household submits an application that is approved, the student's meals must be claimed at the paid rate.
In the event a district is unable to use prior year carryover documentation because the pupil enrollment count date does not fall within the first 30 days of school, the district may request a variance waiver from the CDE to extend the 30 school day requirement as it relates to the at-risk count only.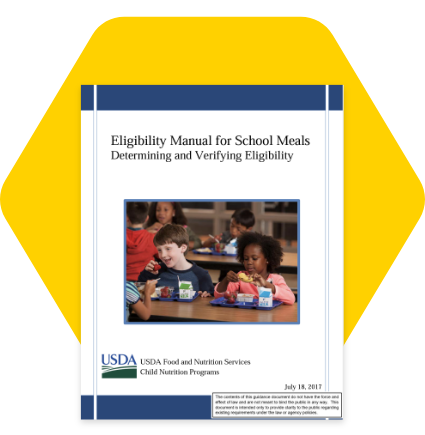 School Meal Eligibility Letters
Districts opting into the Healthy School Meals for All program with no CEP or some CEP schools will use the following letters:
Information Letter to Households:
Districts opting into the Healthy School Meals for All program with all CEP schools will use the following letters:
Districts not opting into the Healthy School Meals for All program will use the following letters:
Information Letter to Households:
---
Direct Certification
Direct Certification uses approved assistance program data to automatically approve eligible students for free school meals. Colorado uses an automated online system to directly certify households that participate in the Supplemental Nutrition Assistance Program (SNAP), Temporary Assistance for Needy Families (TANF), Medicaid and the Migrant Education Program.
Resources
Download Direct Certification Instructions Packet:
Please note, registration is required to access Moodle. Get a Moodle Account
Templates
Direct Certification Templates
Download English Direct Certification Templates:
Download Spanish Direct Certification Templates:
District Liaisons
Legislation requires each district to have a child welfare liaison (CWEL), a McKinney Vento/Homeless liaison and a regional Migrant liaison. Liaisons are responsible for identifying and documenting children who qualify for the listed assistance programs. Children identified in these programs are automatically eligible for free school meals.
Migrant Education Program (MEP)
McKinney-Vento Homeless Education
---
Free and Reduced-Price (F&R) Application Guidance
The free and reduced-price application determines school meal eligibility based on reported information including household size and income or participation in approved assistance programs.
General Resources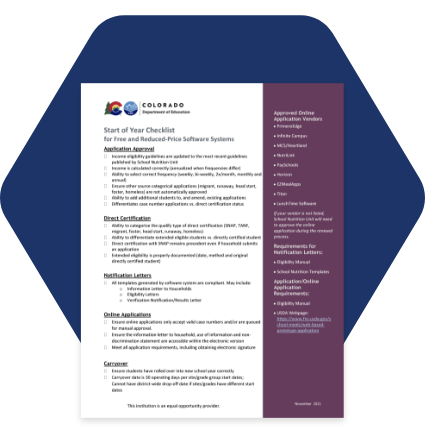 Application Templates
Combination Form Templates
Only for Community Eligibility Provision (CEP) eligible districts that include both CEP and non-CEP schools.
Training
View Trainings on Free & Reduced Price Meals
---
Income Verification Guidance
Verification is the process of confirming free or reduced-price meal eligibility based on income and/or assistance program information provided on applications.
Templates
Verification Letter and Results Packet:
English:
Spanish:
---
Pandemic Electronic Benefit Transfer Program (P-EBT) 
The P-EBT program was created as part of the U.S. government's response to the COVID-19 epidemic that began in 2020. P-EBT benefits are intended for school-age children who would have received a free or reduced-price school meal during School Years 2019-20, 2020-21 and 2021-22.  To find out if your student may be eligible to receive P-EBT benefits and for common questions, visit the Colorado Department of Human Services P-EBT webpage.
Households can contact the P-EBT support center for general benefit questions or case specific information. The Support Center is open Monday – Friday 8am – 7:30 pm and Saturday 8am – 12:00 pm​. Call 1-800-536-5298, text 720-741-0550 or email cdhs_pebtcolorado@state.co.us.
To apply for free or reduced-price school meals, contact your school or district directly. 
P-EBT Resources for Sponsors
P-EBT Data Collection Resources
For more information on the P-EBT Data Pipeline upload requirement, visit the P-EBT Data Collection webpage or email p-ebt.datapipeline.support@cde.state.co.us  
P-EBT Outreach Materials:
4 Reasons to provide household income information

Handout (PDF) English, Spanish: distribute this handout to families with back to school materials and through your district's communication channels
Facebook post (PNG) English, Spanish: this post can be used alongside your district's specific information on how families can apply and who to contact
Instagram post: these images can be posted as a series so families can swipe to see benefits of providing income information 
Questions? Identify Your Point of Contact