You are here
CTE - Best Practices for Career Development
CTE - Best Practices for Career Development
Each Colorado learner deserves the opportunity to explore career options and receive guidance in planning for their future careers. Career advisement and development should be a systemic process that starts with a broad understanding of what work is and what is required to be successful in a career. It should narrow as learners move through middle school, secondary, and postsecondary education. A systems approach that brings together advisors, CTE instructors, and community members is most effective and allows for the alignment of activities that can build throughout a learner's education experience.
Advisors, student services, and CTE instructors align efforts in order to have meaningful career conversations with students.
Instructors are equipped with the skills to have meaningful career conversations with students about their skillsets and career choices.
Instructors, staff, and counselors have access to current and relevant workforce data to guide learners to careers that provide a quality standard of living and future opportunities.
Learners are provided opportunities for the development of Postsecondary and Workforce Readiness (PWR) skills.
State and local entities will continue to build relationships with advisors and the Colorado School Counselor Association (CSCA).
Consider also the Learning that Works Resource Center
The Learning that Works Resource Center is a repository of high-quality CTE and career readiness research and promising policies, and is designed to connect state leaders, policymakers, academics and practitioners with a vetted bank of resources across 12 categories.
And help Engage families and Learners through Advance CTE.  
Attract and recruit learners to high quality CTE programs with:

Research and Case Studies
Messaging Resources and Tools
Digital and Print Materials
Videos and Video Resources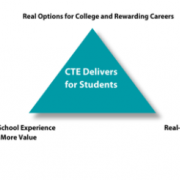 Type of Practice:
Curriculum and Scope and Sequence
Lesson Plans
Organizations that Support ICAP
Professional Development and Training
Websites
Category:
Individual Development
Career Development
Academic Development
PWRful Demonstration of Learning
Career and Technical Education (CTE)
Communications / Messaging / Marketing
Equity, Inclusion, Diversity and Access
Parent / Family Resources
Type of Organization:
Business or Organization
District and/or School
Postsecondary Institution
District Size:
Not a District
Region:
Not Region-Specific
Developmental Level:
Middle School
High School
Adult Learner