You are here
School Readiness
2022-2023 Kindergarten School Readiness Assessment Review
Colorado's Achievement Plan for Kids (CAP4K) requires the State Board of Education to review and adopt kindergarten school readiness assessments every six years. In support, the department is beginning a two part process for vendors to submit assessments to be reviewed for the Kindergarten School Readiness Colorado State Board of Education Approved List of Assessments. The State Board of Education voted to approve additional assessments during its June board meeting. For more information, please visit 2022-2023 Kindergarten School Readiness Assessment Review Process.
Ready Child, Ready System
Every child, in every community deserves access to high quality, evidence-based early learning experiences. A strong start is crucial to ensuring student's ultimate success in school, postsecondary education, in the workforce and in life (§22-7-1002). Effective, engaging programming within an aligned system ready for every child will ensure a child's preparedness to benefit from learning experiences.
To support ready children, ready schools, and partnerships within communities, School Readiness supports ongoing, aligned assessments to inform instruction, Pk-3 transitions, and full-day Kindergarten in partnership with the Colorado Department of Early Childhood, the Early Childhood Leadership Commission, University partners, and other state and local agencies.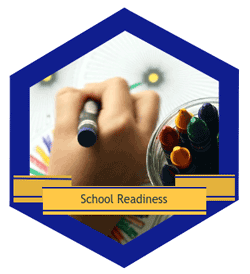 Colorado's School Readiness Description
School readiness describes both the preparedness of a child to engage in and benefit from learning experiences, and the ability of a school to meet the needs of all students enrolled in publicly funded kindergarten. School readiness is enhanced when schools, families, and community service providers work collaboratively to ensure that every child is ready for higher levels of learning in academic content. State Board of Education, 2023.
News and Announcements
During the June 2023 State Board of Education meeting, the Board approved tools to be used in meeting the kindergarten school readiness assessment requirements. For more information on the KSR review process, visit the review webpage.

During the March 2023 State Board of Education meeting, the Board adopted revisions to the school readiness description removing preschool as it will be transitioning under the authority of the CDEC. CDE will use additional feedback received to support further implementation of school readiness initiatives.

KSR Assessment Review is in process. Visit the 2022-2023 KSR Review Process.

The Colorado Achievement Plan for Kids Legislative Report (2023) is now available on the School Readiness Resources webpage. This report details the results of the 2022 kindergarten school readiness data collection.

A Kindergarten School Readiness Assessment Timeline is now available. This timeline provides an overview to the kindergarten school assessment timeline.

NEW: Kindergarten School Readiness Guide: The purpose of this guide is to support the implementation of kindergarten school readiness as it pertains to statutory requirements in Colorado.

Transition to kindergarten resources are now available. These resources were created through the Birth-Five Preschool Development Grant in partnership with the National P-3 Center and the Office of Early Childhood.

Improvement Planning and Early Learning guidance and documents are now available.